If you're in Canada and were wondering why your carrier was left out of our initial availability announcement, have no fear - more carriers are here. Four more Canadian carriers have confirmed they will carry the upcoming Samsung Galaxy S4: Mobilicity, Wind, Videotron and Sasktel. The details on pricing of release dates are still yet to be announced, and it looks like we'll have to wait until we get a little closer to the Galaxy S4 launch in Canada to get them.
A leaked promo poster from WIND mobile shows the carrier getting the Huawei Ascend D Quad XL (along with a pair of movie tickets to see Django Unchained with purchase). There is nothing about a date or a price, but we're going to guess that it will be "soon" and "relatively cheap" respectively.
While the price on the D Quad should be low, a quick look at our review will let you know that this isn't your average budget handset. During the week Andrew had it for evaluation, we tried to find fault with it but came up short most times. It's a good, solid ICS phone with a great screen.
As soon as anyone says anything official, we'll let you know. Believe it or not, this is one to keep an eye on.
Source: MobileSyrup
TELUS, WIND Mobile, and Mobilicity have confirmed that the Samsung Galaxy Note 2 would be arriving across their respective Canadians networks this fall. It wouldn't be surprising to see Rogers and Bell to soon follow suit soon with equally vague announcements. No dates or prices have been revealed, but a few have put up landing pages in their online store. The UK is going to be getting the Galaxy Note 2 in mid-October for £546, while the American version won't be around until mid-November. That should give us an idea of what to expect in Canada.
The Samsung Galaxy Note 2 is the amped-up successor to the original phablet. The specs are pretty sweet, as you can see.
Network: 3G: HSPA+ 21Mbps (HSDPA 21Mbps / HSUPA 5.76Mbps); 4G LTE: 100Mbps/ 50Mbps
Processor: 1.6 GHz quad-core processor
Display: 5.5" HD Super AMOLED (1,280 x 720)
OS: Android 4.1 (Jelly Bean)
Camera: Main(Rear): 8 Megapixel Auto Focus Camera with LED Flash, BSI; Sub(Front): 1.9 Megapixel VT Camera, BSI; Best Photo, Best Faces, Low light shot
GPS: A-GPS; Glonass
Connectivity: Bluetooth® v 4.0 (Apt-X Codec support) LE; USB 2.0 Host; WiFi 802.11 a/b/g/n (2.4 & 5 GHz), Wi-Fi HT40; Wi-Fi Direct; mHL; NFC
Memory: 16/32/64GB User memory + 2GB (RAM); microSD (up to 64GB)
Battery: Standard battery, Li-ion 3,100mAh
You can get a closer look at the device in our hands-on video over here. Canadians, any of you interested in picking up the Samsung Galaxy Note 2, or is it still way too big?
The folks at Mobile Syrup have received confirmation that the LG Optimus 4X HD will be coming to Canadian carriers WIND and VIdeotron in October. The Optimus 4X HD is a pretty spectacular device, packing a 1.5GHz Tegra 3 SoC, NFC and an 8MP camera under a beautiful 4.7-inch IPS True HD display. It's one of the best we've seen from LG.
On the software side, the 4X HD runs Ice Cream Sandwich, with a promise of a Jelly Bean update "soon". We don't put much stock on promises of updates from OEMs or carriers, so take this with a grain of salt. Also, interesting news for those of us south of the 54° 40' line -- WIND and Videotron both use the same AWS bands as T-Mobile in the states. Whether or not this means LG is talking to T-Mobile remains to be seen, but we've seen this play out that way before.
There's no word on pricing or an exact date yet, we'll keep an eye out for any news.
Source: Mobile Syrup
If you're a customer at one of the Canadian big carriers with a Samsung Galaxy Nexus, there's a good chance you have a Jelly Bean update headed your way this evening. We're seeing reports from users at TELUS, Wind, Fido, Rogers and Virgin that the Android 4.1.1 update is rolling out en masse, bringing all the great features you've been waiting for.
Ideally you would be notified when it's time for your update, but it's easy enough to check yourself. Open the settings, go into "About phone", tap Software updates and check. The OTA won't wipe out any of your data, and only takes a few minutes to install.
Seeing your update, or already had it? Shout out in the comments, or hit the forums where Android fans love to talk Jelly Bean.
Thanks, everyone!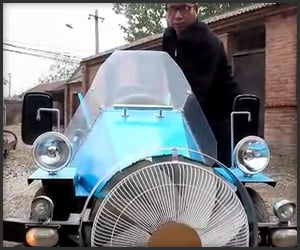 A Chinese farmer took about three months and $1600(USD) to build this rather unusual electric vehicle which harvests its energy from wind and stores it for up to 87 miles per charge.
More Awesome Stuff for You to Click On:
Greenbird Wind Vehicle
A Boy Who Harnessed Wind
Coffee Powered Car
Solar-powered DS Lite
Jet-Powered Schoolbus