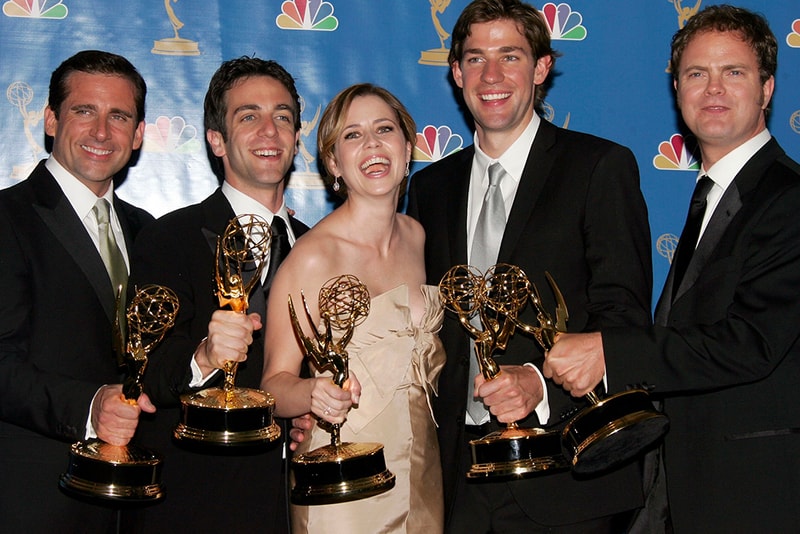 Nielsen has named The Office as 2020's most watched TV show across all the streaming platforms.
Data shared by the information firm revealed that 57.13 billion minutes of The Office was streamed by Netflix users in the U.S. in 2020, beating the likes of Grey's Anatomy, Criminal Minds, NCIS and Schitt's Creek, which only saw between 23.79 billion and 39.41 billion minutes.
The NBC show's 57.13 billion minutes also considerably outshined the numbers of Ozark, which was crownd the most watched original series of 2020. The crime drama logged 30.46 billion minutes last year, and is succeeded by Lucifer with 18.95 billion minutes, The Crown with 16.28 billion minutes and Tiger King with 15.61 billion units. Across both the original series and the acquired series' top 10, the only non-Netflix title is The Mandalorian from Disney+, which logged 14.52 billion minutes to land at No. 5 in the original series category.
The Office left Netflix on December 31, 2020 and is now available to stream on NBC's own service, Peacock.
Take a look at the top 10 titles in the original series and acquired series categories below.
Original Series

Ozark (Netflix) - 30.46 billion (minutes)
Lucifer (Netflix) - 18.95 billion
The Crown (Netflix) - 16.28 billion
Tiger King (Netflix) - 15.61 billion
The Mandalorian (Disney+) - 14.52 billion
The Umbrella Academy (Netflix) - 13.47 billion
The Great British Baking Show (Netflix) - 13.28 billion
Boss Baby: Back in Business (Netflix) - 12.63 billion
Longmire (Netflix) - 11.38 billion
You (Netflix) - 10.97 billion

Acquired Series

The Office (Netflix) - 57.13 billion
Grey's Anatomy (Netflix) - 39.41 billion
Criminal Minds (Netflix) - 35.41 billion
NCIS (Netflix) ...
Continue Reading at https://hypebeast.com/