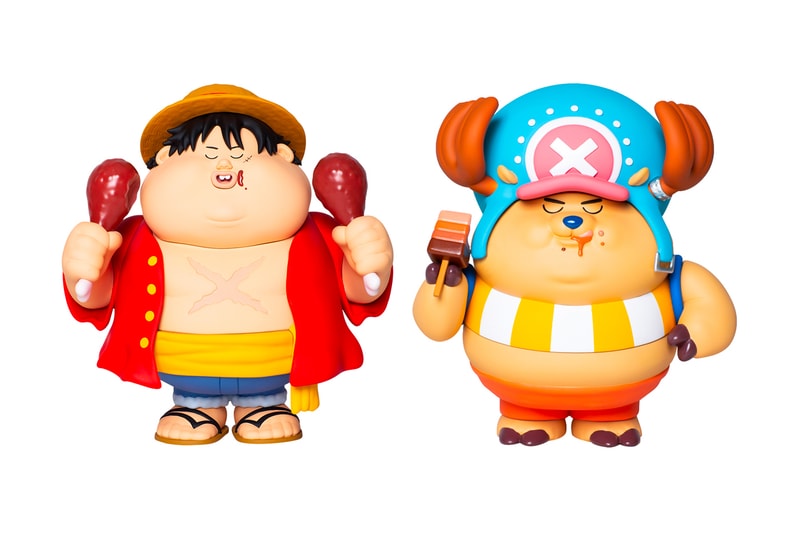 Premium BANDAI has joined the BUSTERCALL Project, a series of One Piece artworks by 200 artists around the world, for puffed-up figures of Luffy and Tony Tony Chopper.
Designed by Alex Solis, the One Piece characters are depicted as their inflated counterparts, nodding to the many scenes in the anime when the characters splurge on delicious meals — the moniker "Chunky" is attached to the front of each figure's name. Luffy is seen holding two giant drum sticks and some sauce stuck to the side of his mouth. His body and face are stretched from his usual skinny build and so are his clothes. Tony Tony Chopper is seen with an ice cream bar in his right hand. This puffed-up version of the Chopper comes with a shirt that barely fits and a backpack that looks tiny compared to his body. Finishing touches like his bright blue hat, antlers and joyous expression round off the details of the One Piece tribute.
Premium BANDAI and The BUSTERCALL Project's "Chunky" Monkey. D. Luffy and Tony Tony Chopper are currently available for pre-order on Premium BANDAI's website for $115 USD.
In case you missed it, One Piece is celebrating its 1,000th chapter with free manga.
Click here to view full gallery at HYPEBEAST
Continue Reading at https://hypebeast.com/