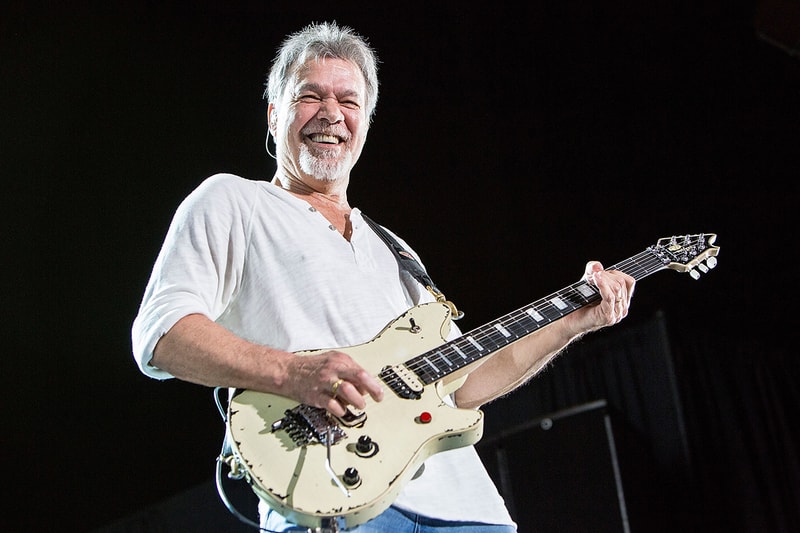 Two of Eddie Van Halen's electric guitars will be up for grabs in an upcoming auction, following the rock legend's recent death after a long battle with cancer. The late artist's guitars, customized, decorated and assembled by Van Halen himself, will be put up on Julien's music-oriented auction.
The first guitar boasts a monochromatic color scheme, decorated with sleek black lines and Van Halen's handwriting. It's a 2004 EVH Charvel Art Series that sports a Strat-style headstock with a maple neck. Besides the artist's signature, "VH 04" is initialed around the guitar's lower body, next to an inscription that reads "San Antonio Texas / 9-28-04," which is a nod to the actual show he played at. A collaboration between Van Halen and Matt Bruck, his guitar tech, the second guitar features white and black stripes over a red base, modeled after the original Frankenstrat. This piece is also inscribed with a special note by Van Halen, going out to close friend Bryan Cash who he gifted the guitar to in 1991 after playing at the Centenary Oyster House in Shreveport, Louisiana: "Yo – / Bryan / Let's get / shucked / up / Eddie Van Halen / 5150."
As two of just a handful of guitars Van Halen customized, both instruments are being expected to fetch anywhere between $40,000 – $80,000 USD, to be auctioned from December 4 – 6 as part of Julien's Auctions' Icons & Idols: Rock and Roll. Head over to Julien's Auctions' website for details about registration.
In case you missed it, Ian Curtis' guitar used in Joy Division's "Love Will Tear Us Apart" has sold at an auction for $200K USD.
Two electric guitars that were owned, played, and partially designed by the late rock 'n roll legend and former Pasadena resident Eddie ...
Continue Reading at https://hypebeast.com/