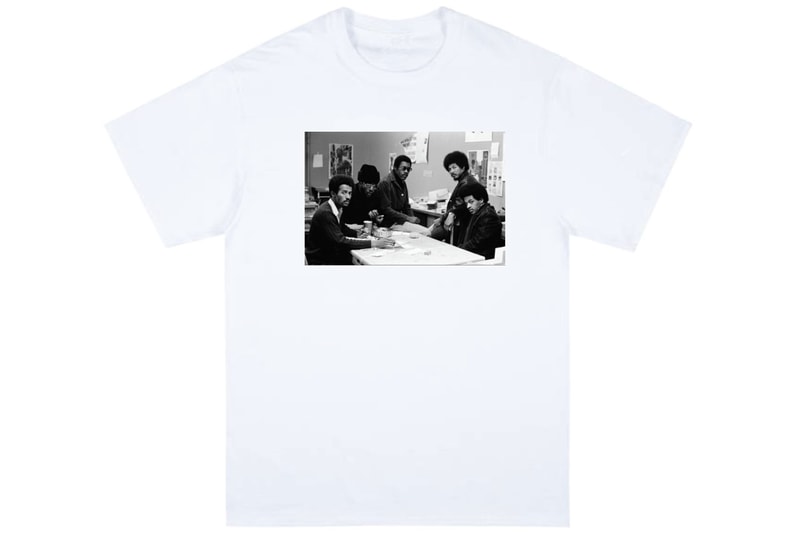 Public School doesn't have all the answers. Who does? But the New York-based creative team of Maxwell Osborne and Dao-Yi Chow do grasp the value of true leadership in uncertain times, looking back to some of the great Civil Rights Movement leaders and their peers for a new charitable effort.
A brief collection of T-shirts is emblazoned with rare imagery sourced from the archives of the Gordon Parks Foundation in honor of the highly influential photographer. Parks snapped pictures of history-making figures like Malcolm X and members of the Black Panther Party, who appear on monochrome Version Tomorrow blanks (more on this shortly). Park's self-portrait appears on the front of another shirt, while the rear is emblazoned with a quote that the artist uttered back in 1968: "What I want, what I am, what you force me to be is what you are."
"This project extends our collaborations with artists who advance Parks' legacy, which dates back to 2016 when Public School designers Dao-Yi Chow and Maxwell Osborne were honored with the Gordon Parks Foundation Award." said Peter W. Kunhardt, Jr., executive director of the Gordon Parks Foundation.
Osborne and Chow seek to remind the public of the trailblazing visionaries who came first but they're also aiming to underscore the importance of looking within -- this also refers to what goes into our garments. The Version Tomorrow blanks that inform this collection are part of the duo's sustainable basics program, a project that's been in the works for several years. Each shirt is sourced from a 60/40 blend of recycled and organic cotton, respectively, that comes together to create a completely biodegradable and recyclable piece of clothing, softening the strain that fashion places upon the planet.
"First things first, Rest In Peace to the great John Lewis ...
Continue Reading at https://hypebeast.com/