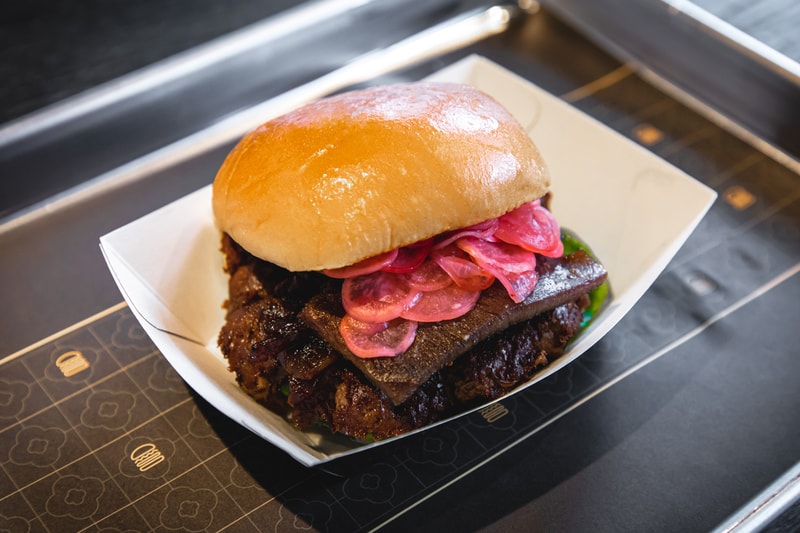 Shortly after being included in the list of Best Restaurants of 2019, Hong Kong's The Chairman has teamed up with Shake Shack to commemorate the global burger establishment's one year anniversary in the city. The collaboration continues Shake Shack's series of local flavor infused offerings crafted to celebrate its milestones around the world.
In line with being the modern day "roadside" burger stand lauded for its burgers, hot dogs, frozen custard, shakes and more, The Chairman Burger and Shake serves to celebrate how Shake Shack became an instant fixture in Hong Kong with its simple high-quality offerings.
The Chairman Burger builds on Shake Shack's perfected burger recipe with some traditional Chinese flavors. Starting with a smashed all-natural Angus beef burger griddled to perfection that's paired with 12-hour slow-cooked caramelized onion. Not done yet, the flavorful base is also topped with griddled ox tongue, pickled radish, Szechuan peppercorns, Chinese fermented bean sauce and butter lettuce. All held together between a perfectly grilled pillowy-soft potato bun.
Delving deeper into the Chinese culinary lexicon, The Chairman Shake inspects the lesser known herbal elements of Chinese cooking. More specifically the flavors and health benefits of osmanthus and goji berries have been incorporated in the frozen treat. For centuries osmanthus has been used for its bright sweet flavor and fruity, floral aroma to add an interesting light flavor to dishes. Likewise, use of goji berries has been dated back to around the 3rd century CE, often used for its slightly sweet and sour flavor that rides off a distinct tanginess and health properties.
Only 800 of the special collaborative menu items will be available for one day only at Shake Shake's IFC  location July 13. Additionally, the first 100 customers at the launch will receive a "The Chairman x Shake Shack" collectible ornament.
Check ...
Continue Reading at https://hypebeast.com/