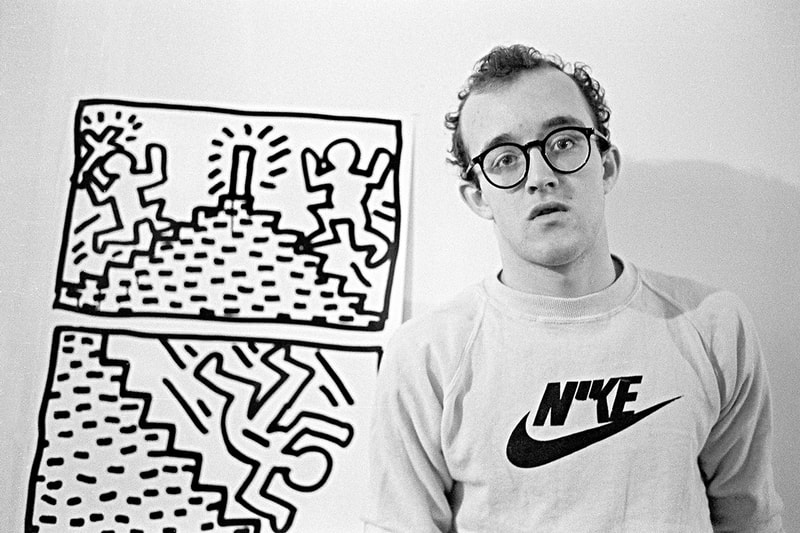 Keith Haring's art is arguably amongst the most recognizable in the world. The late artist's signature style, often described as playful and irreverent, is frequently seen in collaborations with fashion labels -- adidas Originals, Lacoste and UNIQLO this year alone, alongside an ultra-rare Supreme release from 1998 -- as well as on album covers, imitation graffiti and his large murals that are still visible around the world.
The various collaborations continue the work that Haring began during his lifetime. He was, for example, particularly focused on the democratisation of art. "He opened up the idea that art is a resource for every person, it is not rarified, it is communication." explains Samantha McEwen, a close friend of Haring's and a classmate at the School of Visual Arts in New York. "I think he wanted the works to be understood," adds Darren Pih, who has co-curated an upcoming retrospective of Haring's work at Tate Liverpool. "Fundamentally his work was for the people, he wanted to create symbols which spoke of and for his generation."
While the style of Haring's art is immediately recognizable and approachable, the way in which he frequently worked with brands and charities was a change from the art world's traditional approach. During his life, Haring opened two stores selling merchandise (the Pop Shop opened in New York in 1986 and in Tokyo a year later), licensed his imagery to big name brands and worked with charities at no cost. "This is how Keith succeeded in putting his imagery and philosophy about art and charity out into the world," adds Julia Gruen, Haring's friend, studio manager and now, as Executive Director of the Keith Haring Foundation, the guardian of his legacy.
Untitled, 1983, Collection of the Keith Haring Foundation
The visibility and ...
Continue Reading at https://hypebeast.com/