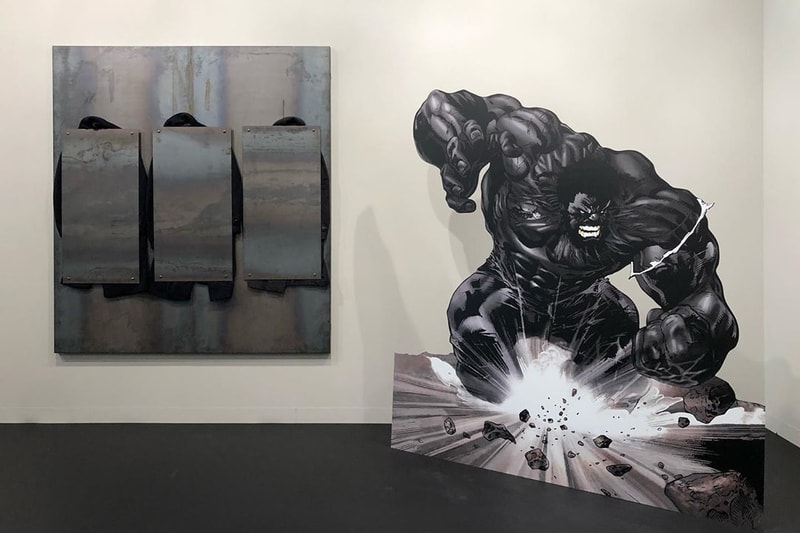 Art Basel 2019 in Basel, Switzerland will open its doors to the public starting June 13. Over 290 galleries from 34 countries will present work at the Swiss fair including international giants Pace, David Zwirner, and Perrotin. Upstaging them all is leading contemporary art institute, Gagosian. The gallery opened a large pop-up space at the fair's Messeplatz venue which turned out to be a permanent location — it's 17th space as per Artsy.
While art world luminaries such as Gagosian can expect long queues at their booths, those attending the fair should also pay a visit to the more underrated galleries participating at Basel. From Arthur Jafa's Hulk-inspired 'LeRage' installation to new light sculptures by Olafur Eliasson, these unmissable artists are represented by the notable contemporary art spaces below.
Check out the list below and then head over to Art Basel's website to view the full list of exhibitors.
Simon Lee Gallery, Booth M26
Simon Lee Gallery
Simon Lee Gallery is an international art space that represents over 35 contemporary artists (emerging and established) with locations in New York, London, and Hong Kong. For the 2019 edition of Art Basel, the gallery is displaying new works from conceptual Italian artist Claudio Parmiggiani including his acclaimed series entitled 'Delocazione.' In addition, works by George Condo, Jim Shaw, Bernard Frize, Angela Bulloch, among others are presented at the booth. Visit Simon Lee Gallery's website for further details.
Peres Projects, Booth P6
Peres Projects
Berlin-based Peres Projects continues to support progressive contemporary artists from across the globe. The gallery is keen on spotlighting unconventional artworks from mixed-media works by Donna Huanca to post-minimalist paintings and wall works by New Orleans native Blair Thurman. The highlight of Peres Projects' booth at Art Basel are works by New York-based painter and sculptor, Austin Lee, ...
Continue Reading at https://hypebeast.com/