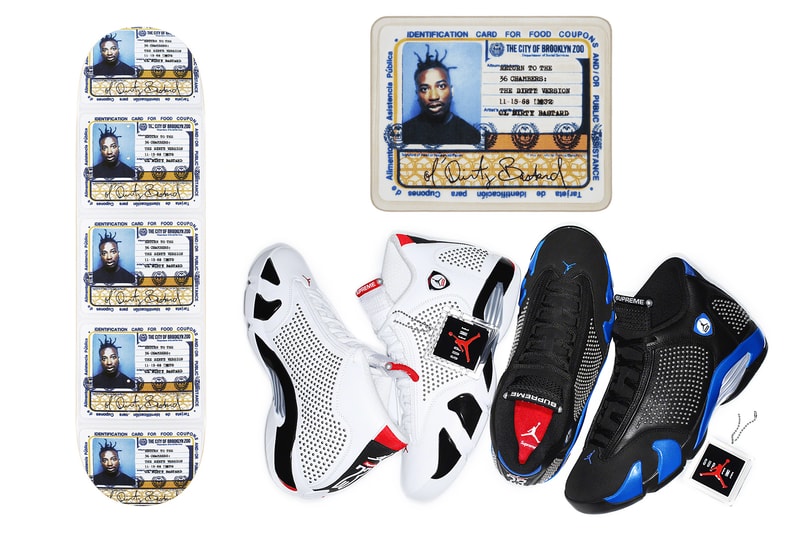 With another week, we have another installment of our product drops series this time marked by Supreme's collaboration with the Jordan Brand. The duo of Air Jordan XIVs serve as the latest footwear offering from the New York skate imprint. Additionally, the Supreme looked to further immortalize the original album artwork of Ol' Dirty Bastard's Return to the 36 Chambers: The Dirty Version with a football top, skate deck and rug. Palace also returned for Drop 7 of its Summer 2019 collection led by warm-weather ready beach shorts in grey, navy, mustard and burgundy. Aside from Supreme's Week 16 Drop and Palace's Drop 7, this week we have an impressive array of special releases, collaborations and accessory launches that make up a selection of must-have street staples.
Some interesting timepiece releases come from Square Enix in collaboration with Seiko to celebrate the remake of Final Fantasy VII and MADNESS's Watch Experimental Unit (WMT) vintage military style watches. Other standout collaborations come in the form of NOAH and Los Angeles rock band Fishbone's team up, Dragon Ball Z x F-LAGSTUF-F and a Kyoto-inspired capsule from ASICS and Reigning Champ. Finally, Dior Men's Artistic Director Kim Jones put together a selection of beachwear marked with patterns courtesy of artist Hajime Sorayama.
Key items this week include Supreme's ODB rug, the Cloud Strife Chronograph, Reigning Champ x ASICS dip-dyed jacket and Palace's beach shorts.
Square Enix Final Fantasy VII Chronograph
To celebrate the upcoming remake of Final Fantasy VII, Square Enix tapped Seiko for a limited run of Chronographs centered around Cloud Strife and Sephiroth
The two iterations feature precise automatic Seiko Instruments movements accompanied by FFVII embossed rotors which are visible from the all-glass back panels. The Cloud Strife iteration features a mirror finish stainless steel ...
Continue Reading at https://hypebeast.com/