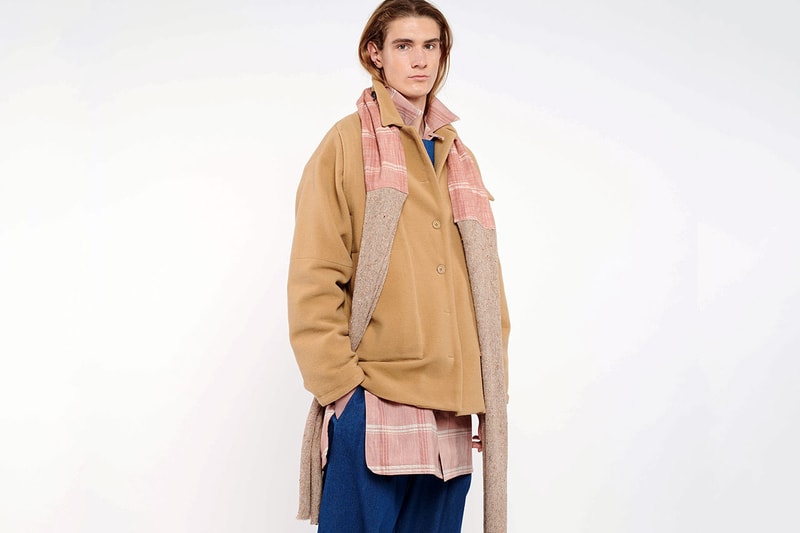 Founded in 2006 as an art collective, Austria's House of the Very Islands has gained a strong following in Europe and Japan due to its signature slouchy looks. Designers Karin Krapfenbauer and Markus Hausleitner have perfected the kind of insouciance that many other labels strive for, simultaneously emphasizing a design ethos informed by organic textiles and fair-trade fabrics.
For Fall/Winter 2019, the label (full name: "House of the Very Island's Club Division Middlesex Klassenkampf but the Question Is Where Are You, Now?"; abbreviated as HOTVI) continues providing billowing street-ready looks, with a versatile color palette to anchor the hefty layers. Inspired by Austrian artist Ashley Hans Sceirl, the garments feature prints of symbols that represent the delusions of materialism, ironically crafted into covetable seasonal clothes.
Beefy alpaca wool blazers and slacks appear throughout, lending texture to the oversized cuts. Striped patterns are woven into the collarless shirts and lengthy scarves for an extra bit of visual interest, while subtle merino wool base layers wick sweat. Heavy French terry tees complement silk-and Italian fleece-blended hoodies in maximizing winter comfort, with oversized blanket shawls to reinforce House of the Very Islands' cozy ethos alongside gargantuan wool shirts and coats.
The new collection hits stockists like SSENSE's site later this year.
For more subversive styling, check out FW19 looks from Japan's Y.O.N.
Continue Reading at https://hypebeast.com/