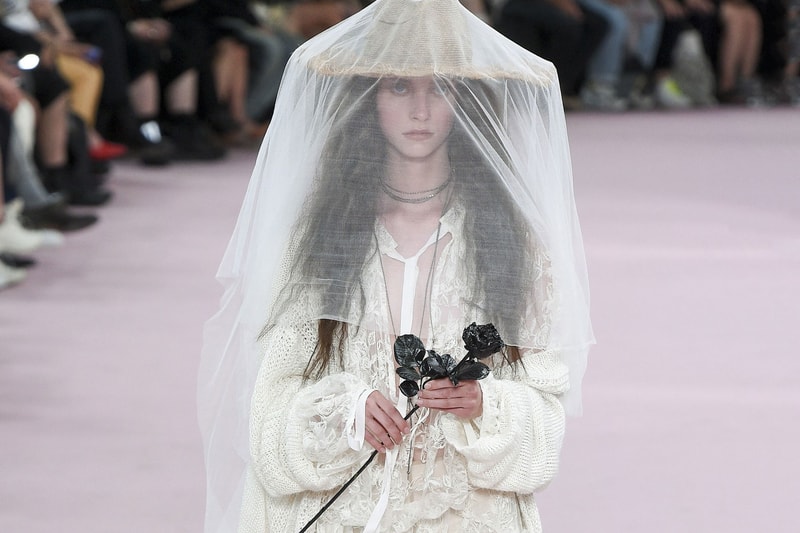 Certain phrases are often bandied about when describing Ann Demeulemeester's clothing: poetic, romantic, drapey. Sébastien Meunier took those motifs to a logical extreme for Spring/Summer 2019, imbuing his creations with ornate craftsmanship to yield a range as texturally dynamic as it was tonally consistent.
With models' faces concealed by translucent veils, the show was granted an emotional air, as though the designs were intended for a gothic funeral or Puritan wedding; black flowers further impacted the mood. Flowing layers gave the trim silhouettes proportional weight, and recalled the clothing of bygone eras, with Victorian vests and strappy Grecian-influenced sandals. With most items executed in monochrome, occasional beige and navy hues became significantly more arresting, but the muted color palette worked in the collection's favor in another way: the multitudes of embroidery, jacquard patterns, rope belts, delicate gloves and slim silver jewelry avoided the pitfall of excess visual busyness. Detailing ranged from floral patterns to crumpled paper or straw hats, which -- along with black, cape-like outerwear -- conjured up imagery of Western gunslingers, with trim suiting appropriate for their aristocrat counterparts, bolstered by scrawled illustrations of horses.
Elsewhere during Fashion Week Spring/Summer 2019, we went backstage at Louis Vuitton, Rick Owens and OAMC.
Click here to view full gallery at HYPEBEAST
Continue Reading at https://hypebeast.com/